Important: This particular hunt is a group pre-order for a crowdfunding project. By joining you agree that GroupHunt is a pure logistics facilitator and is not able to guarantee the final product and estimated delivery date as advertised by the creator, similar to if you were to place the pledge on your own. What we promise is to place the order on the group's behalf, and to redistribute it once we have received the goods.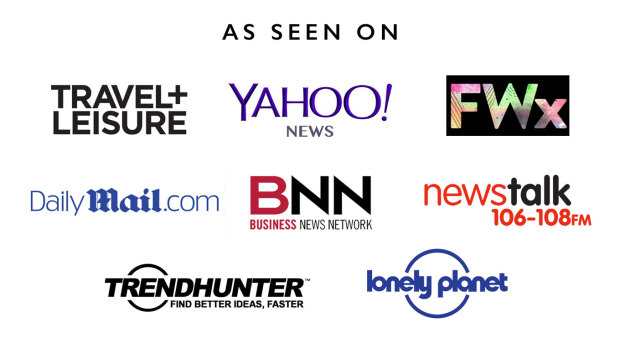 Unbound is a line of clothing that will allow you to see more of the world, without the burden of hauling around bulky luggage. Stylish, simple merino wool apparel that can be worn for weeks or even months - without ever needing to be washed. Which means you can ditch the big suitcase, because all you'll need is your backpack. Unbound presents travel essentials that will bring out the true minimalist in you.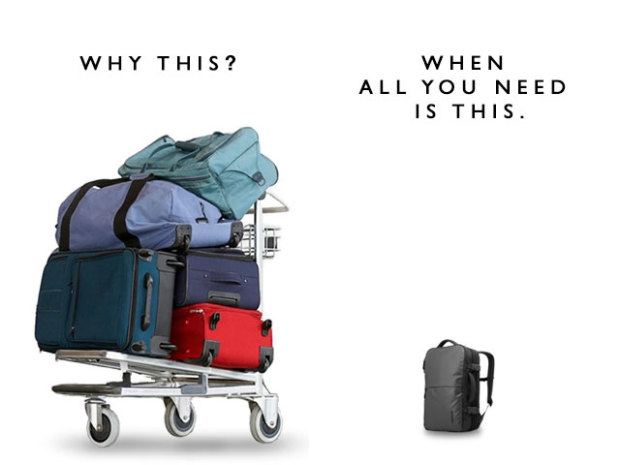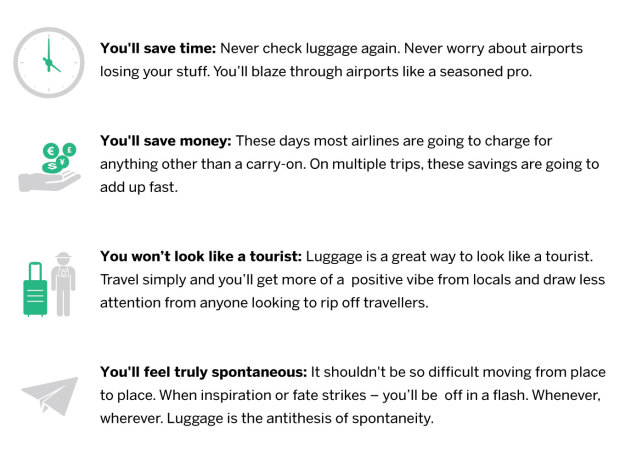 From the airplane, to the gym, to a night out on the town, Unbound travel apparel stays clean and fresh no matter where you find yourself or what you put it through.
That means when packing for a trip, you can drastically cut down the amount of clothing you pack and travel light, fast and free.

Here's why Merino is the perfect fibre for travel: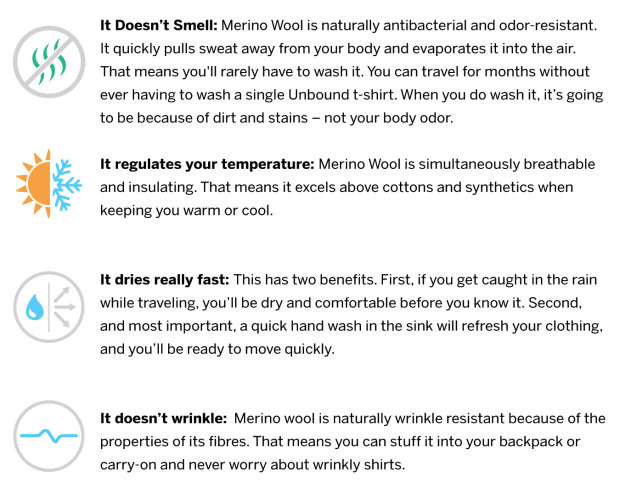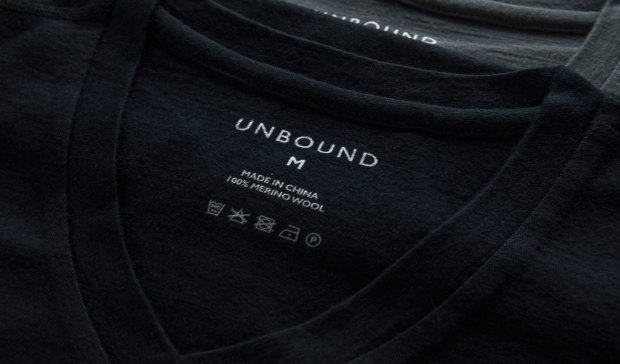 Hunt Variations
For this hunt, choose between two colours, grey and black and two cuttings, V-Neck or Crew (Round)
Sizing Chart
Also take peace is knowing Unbound Apparel offers sizes ranging from S to XXL

Until now, Merino has been traditionally used for high-performance active wear. That means flashy colours, intricate patterns and very athletic fits and functionality. It also means it's expensive and hard to find. Unbound Merino costs a fraction of the price of other merino activewear.
Merino activewear tends to sell in the SGD$120 range whereas the Unbound Merino retails for SGD$70 for the shirt
Grouphunt Deal
If you join the indiegogo campaign alone, it will cost around SGD$110 to buy a shirt from them (SGD$70 for the shirt and SGD$40 for shipping). Yes, that's right, SGD$40 on shipping. We don't have time for that. Thanks to the Grouphunt community, buying in group allows us to save on shipping and reach the higher reward tiers. Thus, we can get you what would have cost you SGD$110 for only SGD$75. But remember, we have a minimum order to hit so bring in all your friends who always backpacks light and loves to bring as little clothes as possible.

The benefits of Unbound go beyond travel. Having less (but better) stuff will not only simplify your life abroad, it will also add simplicity to your life at home. Here are just some of the things that will happen when you Live Unbound:
You'll have less laundry to do. Your laundry machine will be lonelier than ever. With a wardrobe full of clothing that rarely needs to be washed, you'll save time, money and energy.
It's one less thing to think about. There's an endless amount of decisions to be made from the second you wake up. Spend less time deciding what to wear in the morning, so you can keep focused on the things that really matter.
You'll always look great. In a perfect world, you would be wearing your favourite clothing every day. Unbound lets you live in that world. Clothing that doesn't go through the wash cycle with every wear keeps it's form and fit. It's like the first time you put it on, every time.
You'll own clothing with real value. A lot of clothing purchased today is more or less disposable. It's designed to deteriorate after a few wears. While it may seem to be a cheaper option with the initial purchase - it ends up costing more over time. Not to mention the human and environmental cost. Having a few items that last long create more value in the long run and is a better way to live.
And One More Thing… Some people would say that wearing the same thing every day is weird and unfashionable. We say Steve Jobs was onto something. His clothing became his uniform, and his uniform asserted his status as a true icon.
Alice Gregory, a writer living in New York, had this to say about what happens when you wear the same thing every day:
"This is the reason why characters in picture books never change their outfit: Children—like adults, if they'd only admit it—crave continuity. Adopting the habit of wearing a uniform is not unstylish—this is a classification that no longer applies."
Picasso said that art is about the elimination of the unnecessary. Unbound is about the art of travel. It's about inspiring people to travel lighter, simpler, and smarter.
Join the Hunt
Travel unencumbered with the magic that is Merino Wool
Embrace simplicity with clothes that don't hold you back
Save on ridiculous shipping costs by ordering in a group
Join the hunt now and bring your friends in to make this happen. If you need more information, do read the FAQ below.

1. Why doesn't an Unbound T-shirt smell bad, even if I wear it for days or months at a time?
To understand why Unbound Merino doesn't retain odour, it's first important to understand why most shirts end up smelling after a wear or two. The sweat from your body doesn't actually have any odour. But when it absorbs into materials like cotton, it becomes a breeding ground for bacteria - which is where those bad smells come from. Merino wool doesn't give sweat the opportunity to develop bacteria because of how effectively it wicks the moisture away from your body. Merino constantly pulls sweat away from the body allowing it to evaporate. This keeps you dry and keeps your shirt from smelling bad.
We have put our product to the test like you wouldn't believe. We have tried to find the limits of how many wears our clothing could handle before absolutely needing a wash and we haven't found that limit yet. Here is an example of what one of our prototype shirts has gone through without a single wash: Worn 46 days in a row without exception In that 46 days worn in the gym around 6 or 7 times through heavy cardio (testing the product was the motivation for the gym more so than sheer discipline) Worn twice in the sauna (we meant it when we said we took this to the limits) Worn to bed some nights and stayed on the body right through the day Taken to Shanghai, Bangkok and Koh Tao, Thailand and worn daily in sweltering 40 degree weather. (see our Indiegogo video) All of the above was done without a wash. It never smelled. Not even slightly. It's important to note that whenever it was worn and heavily perspired into, it was hung up to air out and dry off before being put back on. Nobody wants to wear a wet shirt, and it does need to air out so that the moisture wicks away and bacteria isn't formed. When alternating between 2 or 3 shirts over a trip, you can go months without a wash with ease.
2. Can I wear Unbound underwear everyday without a wash?
This is one of the more awkward questions to answer... The short answer is yes. Absolutely. But that's assuming you keep yourself clean. Catch our drift? Unlike cotton underwear, these will wick away moisture and prevent any odour causing bacteria so they can be worn for many days without a wash. That said, life happens so use your judgement and refresh these with a quick hand wash and air dry as frequently as you require.
3. Where is your clothing made?
Our shirts and underwear are made in facilities in Hangzhou and Jiaxing, China and our socks are made in our hometown of Toronto, Canada.
4. When I do wash my Unbound Apparel, what are the care instructions?
Your shirts, socks and underwear can be washed in a regular washing machine at a normal or cool temperature setting. Use regular detergent and avoid fabric softener. We prefer to hand wash because it's easier and quicker (when travelling) but the choice is yours.
IMPORTANT: DO NOT TUMBLE DRY. After a wash, ring out the water and lay your clothing flat on a towel to air dry, flipping periodically. Don't leave directly in the sun to dry.
5. Where will your clothing ship from?
All orders will ship from Toronto, Canada.
6. Wool sounds itchy, is Merino wool itchy?
Not at all. It feels completely different to the touch than the traditional wool you're thinking of. It's light and soft on the skin and with it's moisture wicking properties it maintains that smooth feel all day, even when you perspire while wearing it.
- This group order is only available for those residing in Singapore. For orders outside of SG, additional shipping may apply. Please drop us a note at hello@grouphunt.sg before ordering. - This group order requires a minimum of 4 orders in order to go through. If we do not hit the minimum order goal, you will not be charged. - After this hunt ends, everyone will be updated everyone via email. - Product arrives directly from Unbound Apparel. - Estimated ship date is October 2016.