Rolo is an exciting patented travel accessory for minimalist traveling
Think of it like a portable rollup closet.  You can put your shirts, pants, underwear, and socks inside, then roll it up to compress everything. The hanging hook can be hung anywhere, streamlining your ability to store things in tight spaces. When you want to go mobile you can easily roll it up compressing everything down - while still keeping it all together. 
It measures 17 inches long by 4 inches tall by 1.25 inches wide when rolled and empty.  It weighs 1.25 LBS (0.5 KGS), and can hold approximately 4 days worth of clothing.
Perfect for short term or minimalist travel, its minimal footprint give it an added benefit of helping you decide whats really necessary while traveling.  Less is more.
Grouphunt Deal
More than 120 of you in the Grouphunt community have voted to on the Interest Check for this hunt and we're excited to begin taking orders. This will cost you around $105 to buy it on their website and ship it to Singapore. Working with Rolo to offer competitive group buying rates and taking advantage of the benefits of group buying, we can offer it to everyone here for $79!
That's close to 25% OFF! We need a group size of 30 people to make this hunt work so make sure to join the hunt and share this with your friends who'd be interested in this!
---
BRANDED CONSTRUCTION
Strong fabric, brand name YKK zippers, military grade mesh, and high quality patented buckles deliver high quality that will last.
COMPOSITE REINFORCED
Rolo features a strong metal hanging hook, and a  fiberglass rod that will reinforce Rolo when it hangs.  The rod can also compress down clothes when rolled.
MESH POCKETS
Our mesh pockets are made of strong military grade nylon mesh. The pockets are transparent so that you can see what clothes are where. Your clothes will stay organized, neat, and you will never again have trouble finding an outfit.
STORE IT
Rolo is approximately 15 times smaller than a rolling suitcase when empty, and can be stored in roll form, or hung in a shirt closet.  This compact size makes it an ideal replacement for a rolling suitcase in small apartments, or other space constrained places.
CARRYING STRAP
Every Rolo comes with an included custom designed carry strap that makes short trips a breeze.  For weekend trips, you won't even need a suitcase.
CARRY IT
Rolo can be carried alone with the included carrying strap, making it an ideal bag for a short trip. It can easily fit inside your backpack, or it can be carried on the outside of a backpack in the place normally reserved for a bedroll.
FLY IT
Rolo can easily be carried on an airplane with space to spare. It was also engineered to fit perfectly into a rolling suitcase to compress your clothing and keep it organized.
HANG IT
When you get to your destination you can hang Rolo from the included hanger. Your clothing will remain organized and separated. Rolo can be hung in a closet, on a doorframe, on a bunkbed, or pretty much anywhere.
Join the Hunt
Carry 4 days worth of clothes in a tiny rolled up bag
15 times smaller than a rolling suitcase
Save 25% with the Grouphunt community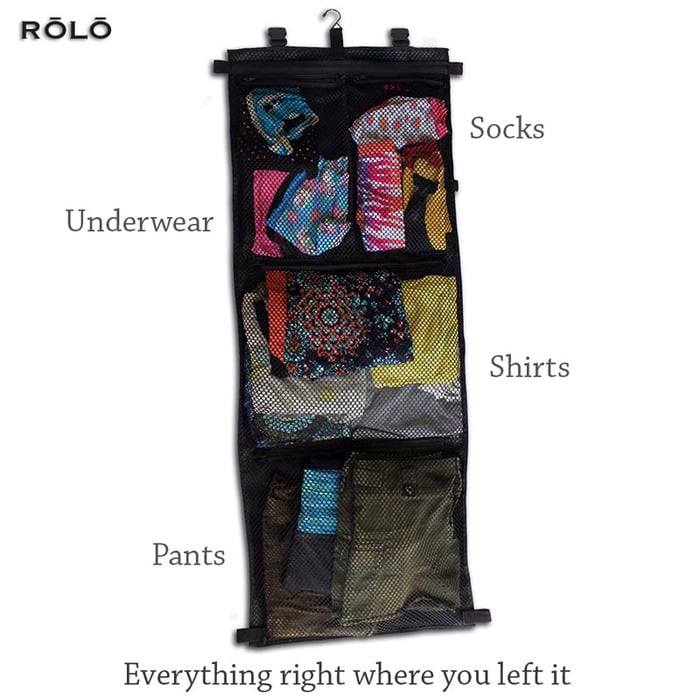 - This group order is for those residing in Singapore only - For orders outside of SG, additional shipping may apply. Please drop us a note at hello@grouphunt.sg - After the hunt ends, we will update everyone via email with details on shipping - To deliver the best value to the group the request will then be submitted to the vendor up front, making all sales final. No returns are available - Product ships in about 3 month after campaign ends. Estimate ship date to SG is Late November - Early December 2016