The Vanishing Point retractable fountain pen is a product rich in both history and performance. Its brilliant design and ingenious technology make it a pen for the new age. A larger size, durable metal body and attractive appointments make the Vanishing Point unmistakably unique.
This pen features a black matte barrel color with black accents, with an extra-fine black ionized 18 karat gold nib. A Pilot CON-50 converter is included with this pen, as well as a cartridge. The Vanishing Point can accept Pilot cartridges, a Pilot CON-20 converter, or a Pilot CON-50 converter.
Watch a review of the Pilot Vanishing Point Fountain Pen from the Desk of Adam here:
---
Please note that this hunt is especially tricky to source, especially with respect to nib sizes. This is because the stocks are variable on a daily basis and therefore Grouphunt can not guarantee your order even if it has been placed. If your nib size is unavailable at the time of order, we will not execute the charge, or provide you with a full refund. We will notify you after the hunt whether or not your selection is available for order.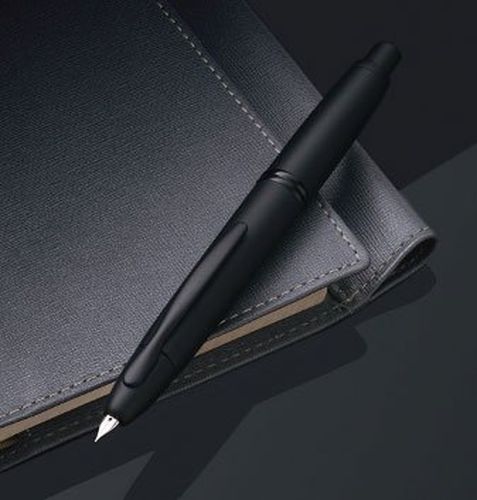 - Diameter - Body: 13mm - Diameter - Grip: 9.07mm - Length - Body: 140mm - Length - Nib: 8mm - Length - Overall (Closed): 140mm - Weight - Body: 30g - Weight - Overall: 30g
- This group order is only available for those residing in Singapore. For orders outside of SG, additional shipping may apply. Please drop us a note at hello@grouphunt.sg before ordering. - Order ships from an official distributor of Pilot pens, subject to stock availability. Local fulfillment handled by Grouphunt. - No returns are available. - After the hunt ends, we'll update everyone via email. - If you'd like to receive these pens before Christmas, opt for self-collection or Courier Delivery. - Expected shipping date: End Feb 2016