Affordable Flex Pen suitable for Everyone!
Vintage Flex Pens have captured the hearts of many fountain pen users who fall in love with its unbelievable flex that aren't seen in modern day flex nib pens. Vintage Pens also require great care and due to various reasons aren't suited to be used with many of today's inks. Modern day flex nibs often only appears in more expensive higher end pens which put it far out of the reach of normal fountain pen users who just want to try out a affordable flex nib.
Flex Nib Pens by Noodler's
The Noodler's flex pens were designed for the hands-on tinkerer - they are made to be taken apart and adjusted. The nib and feed pull right out and can be adjusted and heat set for optimal performance. Don't be afraid to get a little ink on your fingers while you learn how to use this pen. However, the vegetal resin that Noodler's Pen have a particular smell that may or may not be pleasant to those who are interested to get it. It's good to note that most who fell in love with their pens have gotten used to the smell with time :)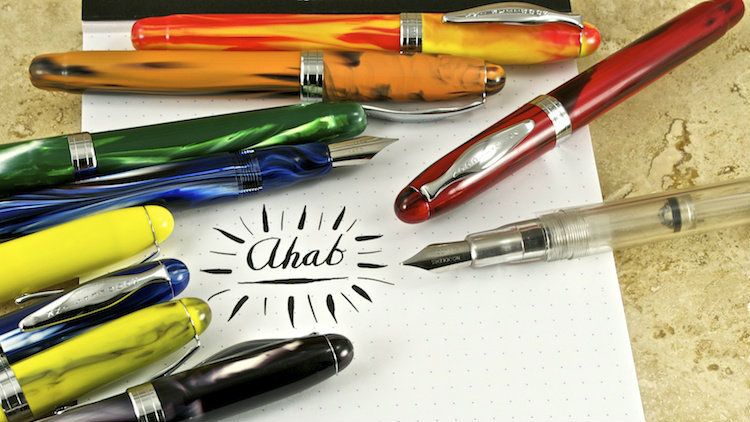 For those who have not tried a flex pen before, just apply a slight pressure for you downstrokes, which will spread to tines of the nib and increase the width of the line being drawn. By controlling the pressure on you strokes, you would be able to achieve some amazing line variations! Just make sure to go slow so that the ink can keep up with your writing to prevent railroading!
The Noodler's Ahab Flex Nib Pen
The Noodler's Ahab Fountain Pen is the largest and longest flex nib pen from Noodler's. It's features a steel flexible #6 nib and a slide piston mechanism. It can also be converted to an eyedropper for a massive 6ml ink capacity which would be a great volume for flex pen writing. The Ahab is made of a celluloid derivative and is technically biodegradable and formed from a "renewable resource". The vegetal resin body of this pen may show particles or striations within the material. This is most noticeable in demonstrators and bright colors.
Dimensions of Noodler's Ahab
Length capped: 140mm
Length uncapped and un-posted: 128mm
Length of cap: 60mm
Length of nib: 21mm
Length with cap posted: 170mm
The Noodler's Konrad Flex Nib Pen

The Noodler's Konrad Fountain Pen is the second largest flex nib pen from Noodler's. It is slightly larger than the Nib Creaper but smaller than the Ahab. It features a steel flexible nib and a twist piston mechanism with a blind cap. The Konrad is made of the same material as the Ahab.
Dimensions of Noodler's Konrad
Length of capped: 129mm
Length uncapped and unposted: 126mm
Length of cap: 58mm
Length of Nib: 22mm
Length with cap posted: 145.5mm
---
Video Review for Ahab Flex Pen
Video Review for Konrad Flex Pen