FIT ALL OF YOUR TRAVEL DOCUMENTS IN YOUR POCKET

No more beading with nervous sweat as you shuffle through your bags, looking for your passport. The Travel Wallet enables you to keep all of your important documents in one place while fitting snugly in your pocket. With two note sections, a tailored passport pouch, card slots and supplied with a handy and carefully chosen travel pen, the only thing you need to worry about is making sure you get a window seat on the plane.
For this hunt, we're also introducing the Passport Sleeve for the first time on Grouphunt. Scroll below for full details!
As you know, Bellroy is a premium brand and doesn't normally go on sale. However due to the overwhelming response for this hunt, we've managed to secure Grouphunt members an unbeatable 10% off plus free local courier shipping! Want to hunt for other Bellroy products? Start a hunt or let us know in the comments below!
---
The Travel Wallet
We used the Bellroy Travel Wallet on a recent trip and became increasingly fond of its sleek design with each airport encounter. Thanks to the micro travel pen hidden in the center of the wallet, filling out customs forms on the plane is a snap. ‐ COOL HUNTING
INSIGHT #1 : SOMETHING UNIQUE
When we originally went looking for a travel wallet that could fit in our pocket, we simply couldn't find one that held tickets and documents.
INSIGHT #2 : THE RIGHT PEN
We hunted high and low for a pen that would do this wallet justice. The one we found is from Japan, and so we include a refill to make sure it lasts well for you.
INSIGHT #3 : FAN CLUB
We have now heard about world champions, celebrities, global CEOs and just plain awesome customers that have all become addicted to this wallet when traveling. It really does change your jet setting routine.
---
Available Colors on this hunt:
Cocoa, Slate, Midnight, Mocha, and Charcoal
---
The Passport Sleeve
The Passport Sleeve is a specialist style that offers protection for your passport, while adding extra features like a handy pen for custom forms and slots for the cards you need when on the move. The signature Bellroy pull-tab also provides quick access to your documents. Experienced travellers pack slim.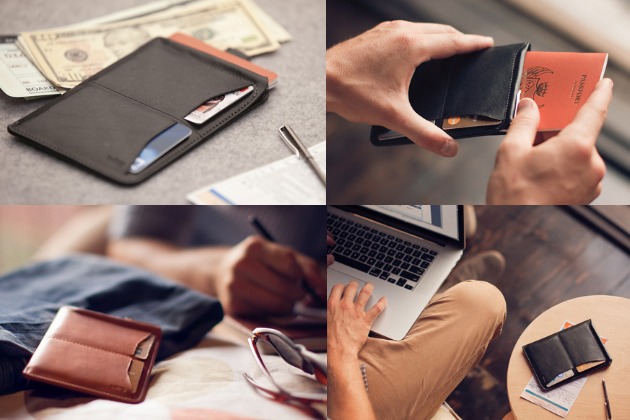 Features include: The micro pen is both an amazing help when filling out forms, and a neat way to help keep your passport locked away. Fold your Boarding Pass at the perforations, and slip it inside your passport or into the rear pocket. The whole sleeve is made from a folded sheet of leather, eliminating the need for lining or zips.
Available Colors on this hunt:
The Passport Sleeve for this hunt is for the LO Size, which is the best fit for Singapore Passports and passports up to 85mm. It comes in Black, Tan, and Charcoal. If you'd like a larger size (up to 95mm), simply email us to let us know!
Our products are made from premium full-grain vegetable tanned leathers, made under world-class environmental stewardship standards. Oh, and they're delightful to hold and use. Travel Wallet: - 4-10+ cards - 9.7cm x 15cm - Sections for passport, tickets & bills - 4 quick access card slots (+ 2 extra slots) - Micro travel pen with refills - Premium vegetable tanned cow leather - Backed by Bellroy's 3 year warranty Passport Sleeve: - 2–4 cards - 140mm x 100mm - Sections for passport & folded ticket - 2 quick access card slots - Micro travel pen with refill - Premium vegetable tanned cow leather - Backed by our 3 year warranty
- This group order is only available for those residing in Singapore. For orders outside of SG, additional shipping may apply. Please drop us a note at hello@grouphunt.sg before ordering. - After each hunt ends, we'll update everyone via email. No returns are available. - Product warranties are to be handled between customer and Bellroy. - Product ships directly from the official local distributor of Bellroy, domestic redistribution will be handled by GroupHunt. - Estimated ship date is Late May / Early June