Introducing Batteriser:

The first micro-thin sleeve that
extends the life of your batteries by up to 8x.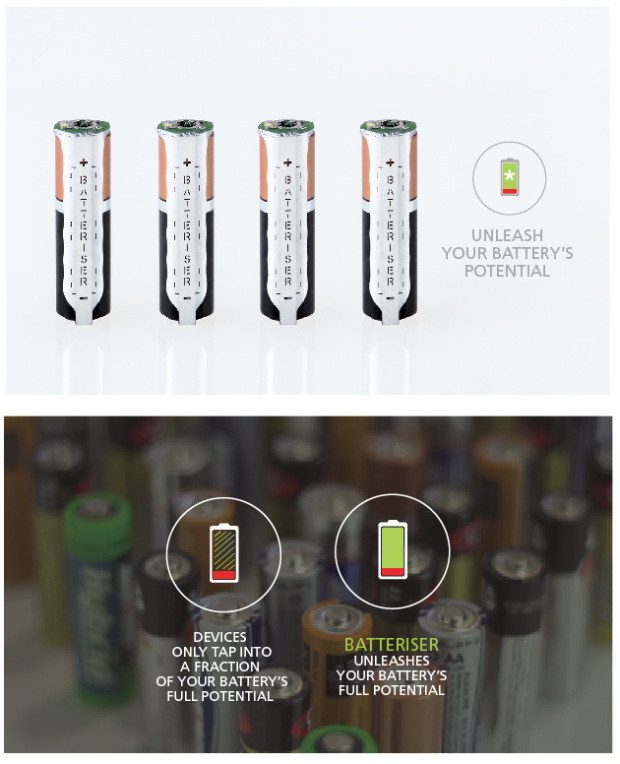 Batteriser
is the world's first micro-thin sleeve that slips over your batteries and instantly extends their life by up to 8x. The key is that most devices only tap a fraction of a battery's energy.
Batteriser
taps into the remaining energy that is usually thrown away.


Batteriser comes in AA, AAA, C, and D variations, and has a micro-thin design to slip over your battery and fit neatly back into your device's battery compartment. The 9V Batteriser will be available next year.



As Seen On:


How to use Batteriser:
Revive your batteries instantly in three simple steps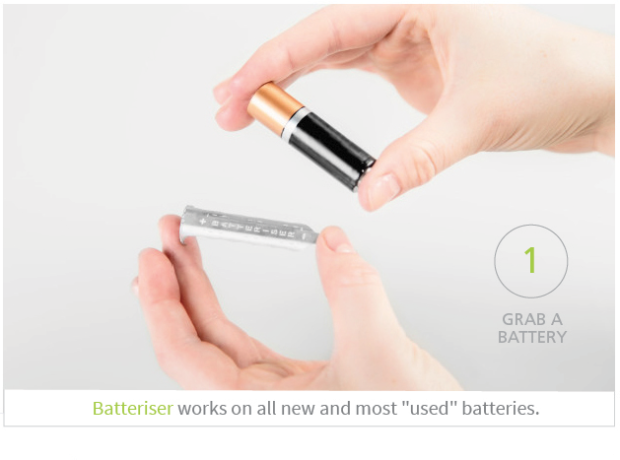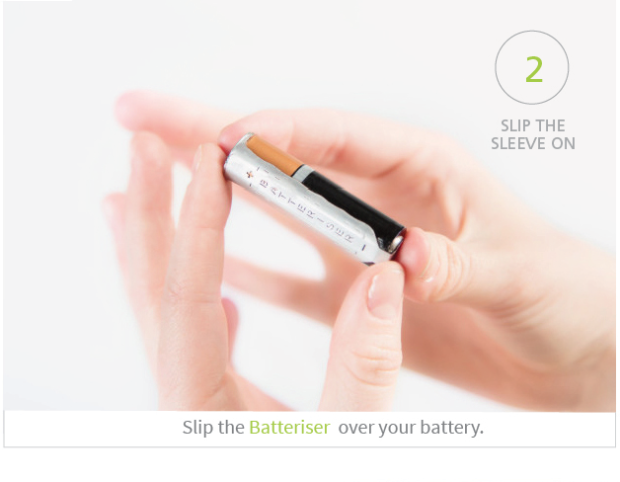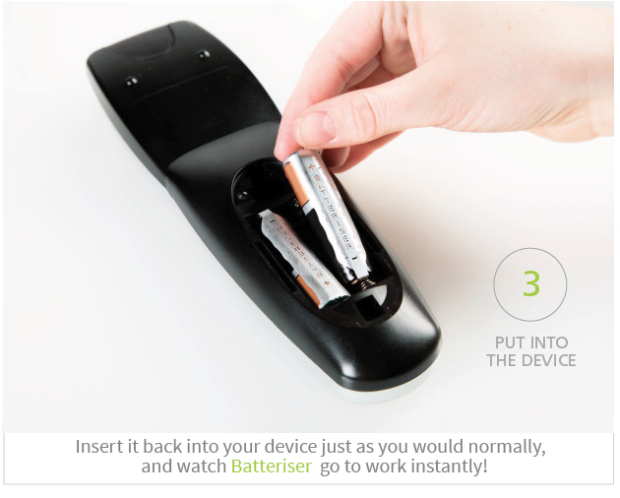 The Technology Behind Batteriser

Our proprietary circuitry maintains optimal
output voltage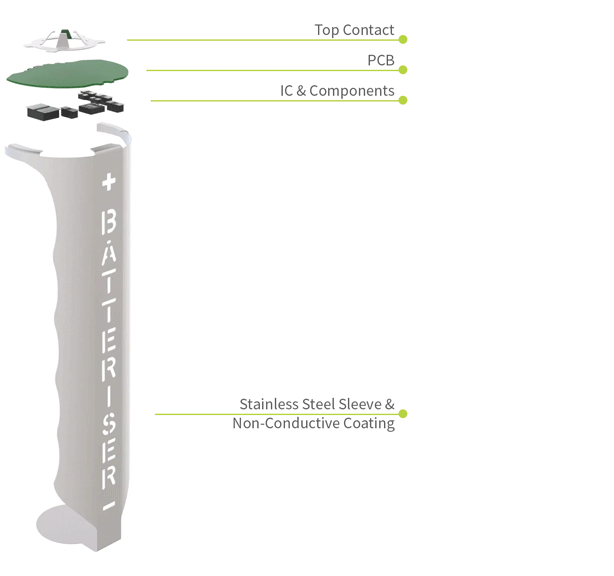 Batteriser
is an intelligent voltage management and delivery mechanism device made of thin stainless steel that slips over your battery and fits neatly back into your device's battery compartment.
Significant number of batteries thrown away still has a lot of energy left in them. Using proprietary circuitry to maintain an optimal output voltage, Batteriser allows the end device to access the untapped energy in the battery and makes it last longer.

Value and Performance
Your Batteriser saves you money every time you use - and reuse

Batteriser
can make a dramatic difference on new and most "used" batteries.
Batteriser
tends to have a more dramatic effect with high-drain devices, however we are confident you'll enjoy the huge battery life increases with
Batteriser
.
Batteriser save you money by reducing the number of batteries you have to purchase. As long as you take care of your Batteriser, it's re-usable. We realize that the amount of money you save with Batteriser depends on how much the batteries cost, and how effective Batteriser can be with your device. Take a look below!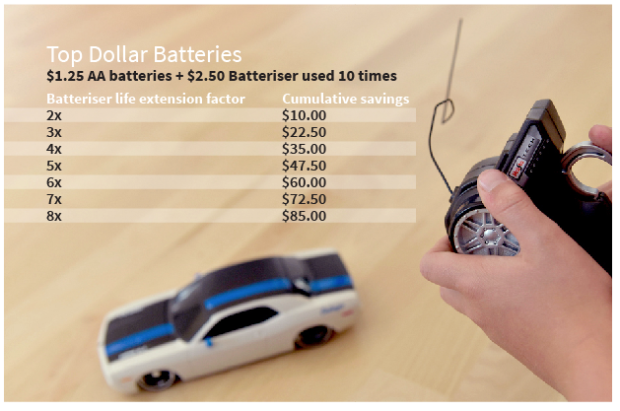 *http://www.bestbuy.com/site/energizer-max-batteries-aa-4-pack/150115.p?id=1051384046217
Features

Why you'll love Batteriser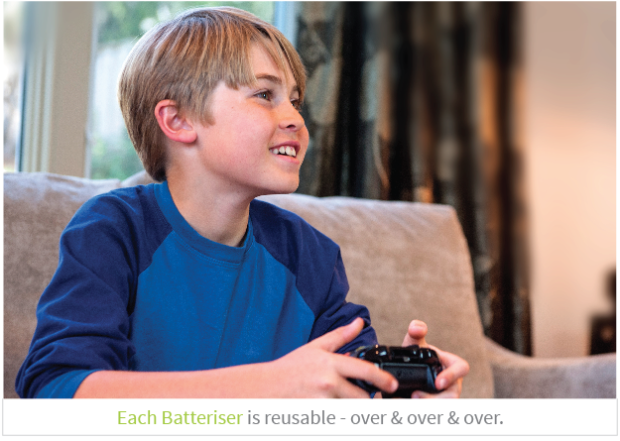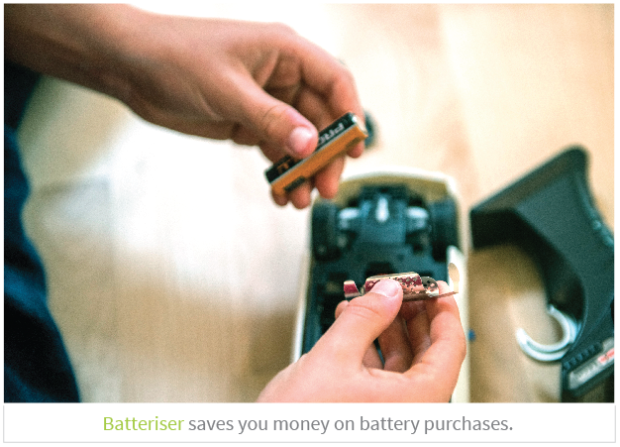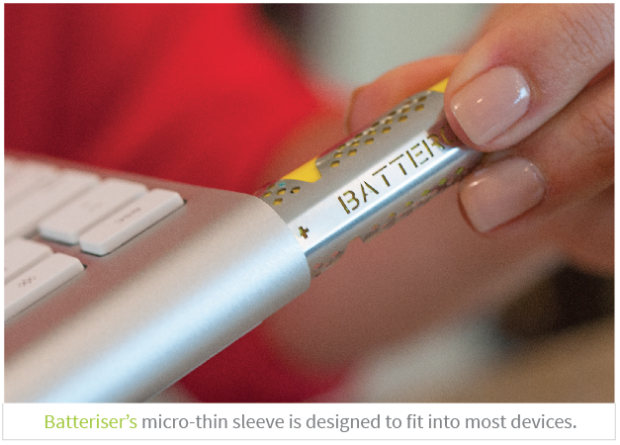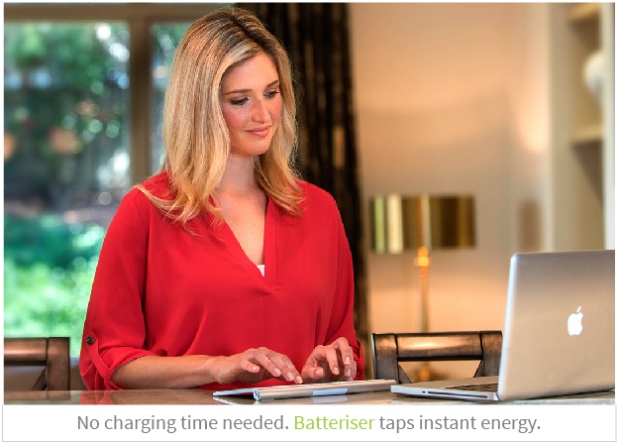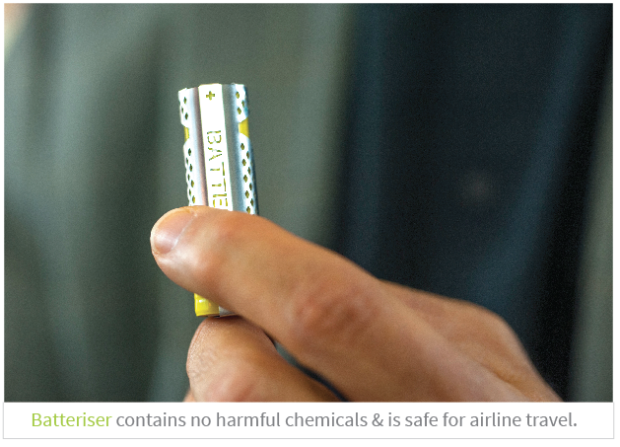 Environmental Impact
Saves unnecessary battery landfill by reducing
battery waste

Over 15 billion batteries end up in a landfill every year. If we lined up all the batteries back to back that we use in just one year, it would reach 466,000 miles.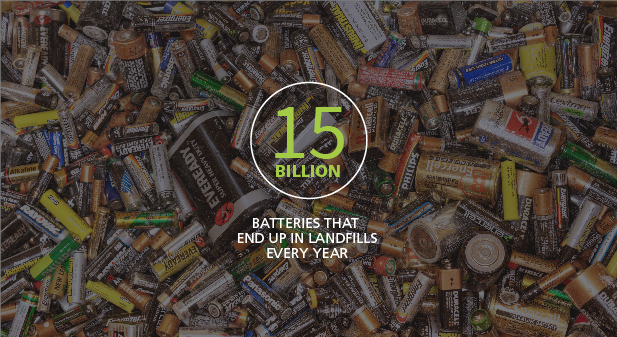 By the time billions of batteries reach a landfill, they have already created a significant carbon footprint. Greenhouse gas emissions from sourcing raw materials and factory production, plus transportation of batteries around the globe results in potentially hazardous implications for our planet. On top of it all, less than 2% of batteries are recycled.
The solution is simple. Consume less batteries. Use Batteriser.
Product Development

Here's a look at where we started and what's to come.
Original sketches of the Batteriser concept.
The idea actually came to Frankie Roohparvar (Batteroo Chairman), when he was snowed in for the holidays but needed fresh batteries for his children's toys.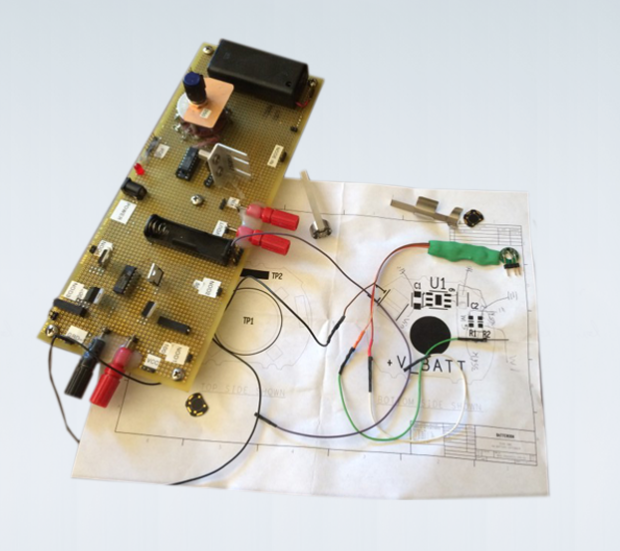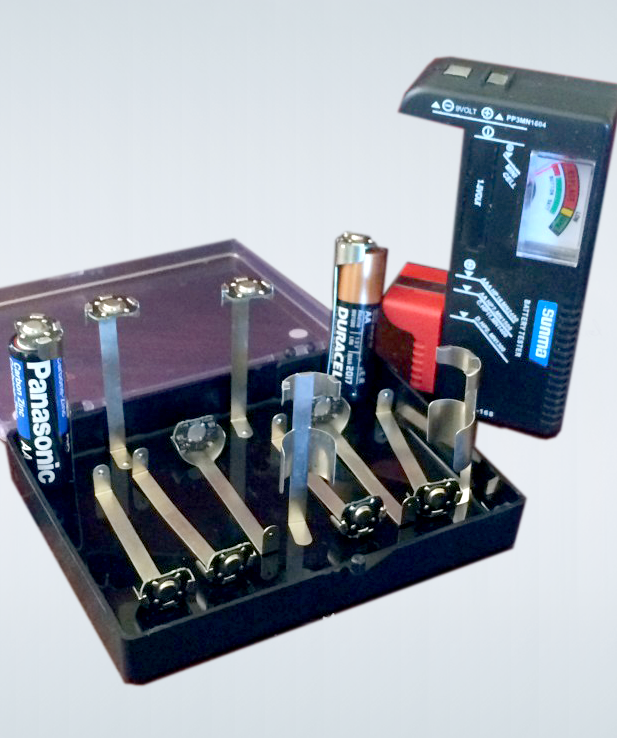 Batteriser Prototypes
The challenge was to create a sleeve that was thin enough to fit in a battery compartment, but also strong enough to be reused.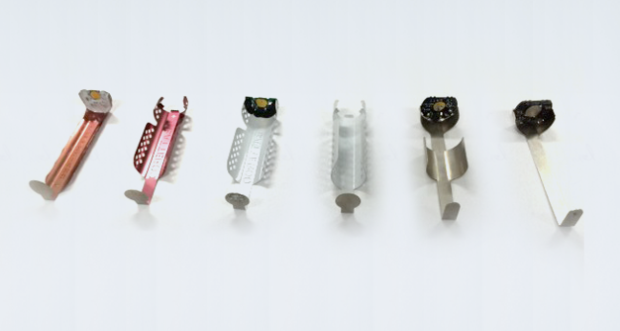 The Latest Color
The latest sample has a rose-colored non-conductive coating to protect from shorting.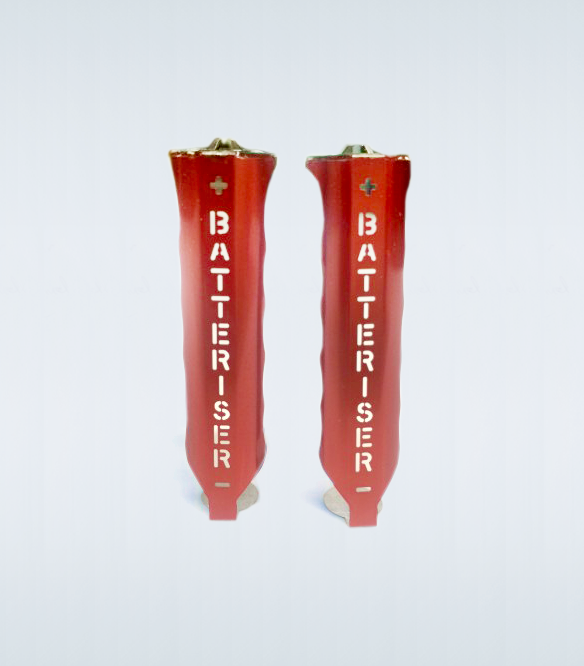 Protective Case Included
Batteriser comes with a rugged case to safely store your Batterisers when not in use.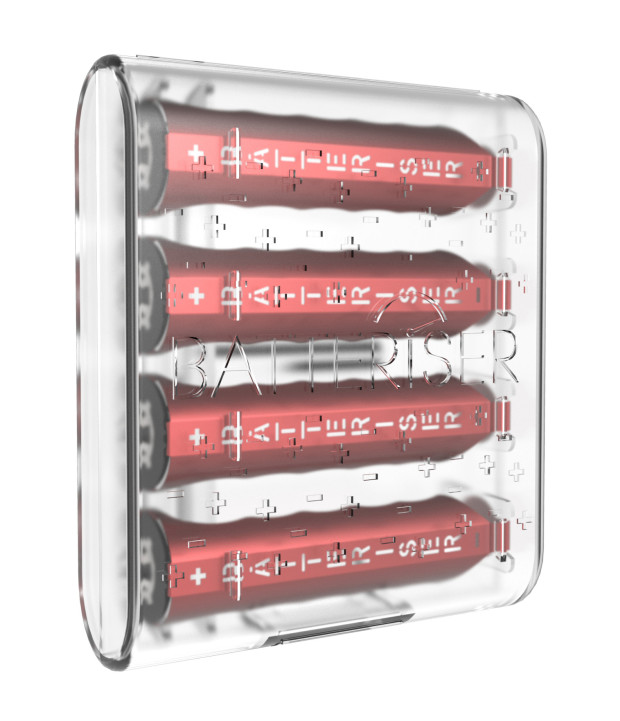 Meet the Family!
Batteriser comes in AAA, AA, C, and D sizes.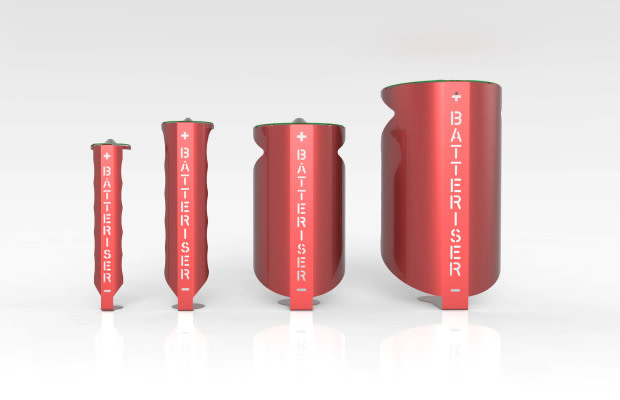 The Perfect, Eco-Friendly Holiday Gift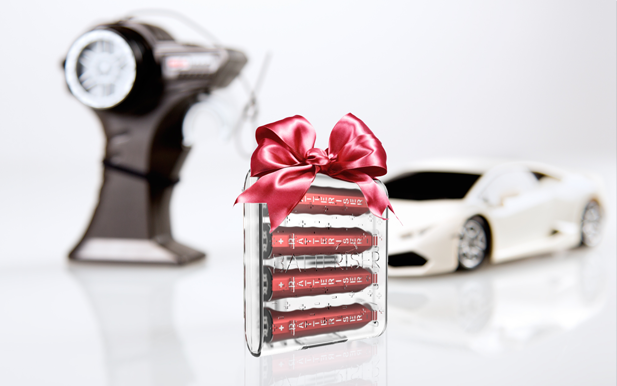 Share the love this holiday season! Batteriser is the perfect eco-friendly gift for your friends and family so they can enjoy their toys and gadgets longer. Batteriser is set to start shipping in November.
Timeline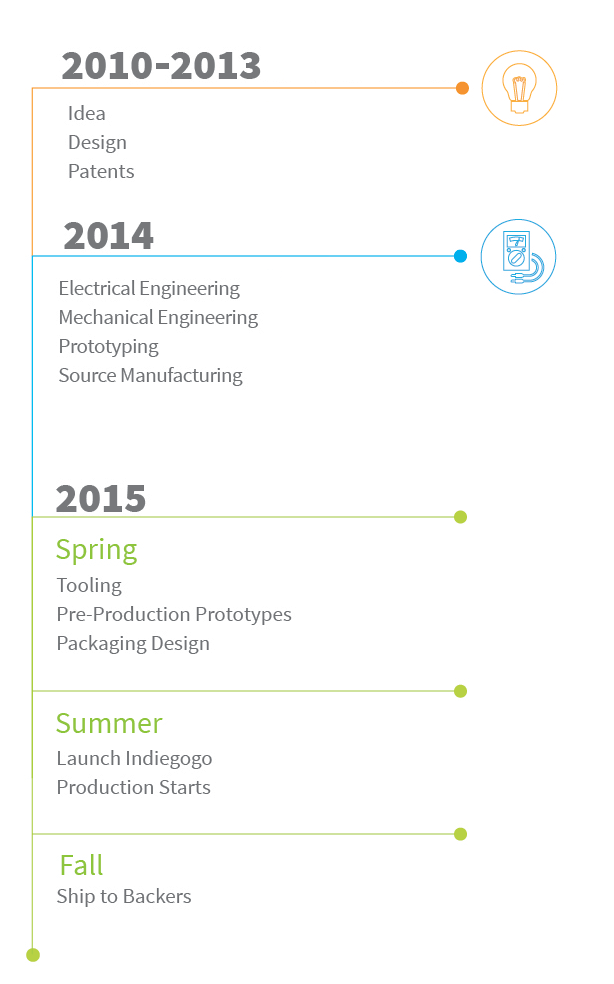 The Batteriser Team
Enhance Your FlashLight's Performance

Frequently Asked Questions:
How do I use it?
The
Batteriser
is incredibly simple and user friendly. You simply slip the battery into the sleeve, and leave the sleeve on the battery for the remainder of the time the battery is being used. Once the battery is completely dead, keep the
Batteriser
and discard the battery. Repeat.
Can I reuse my Batteriser? Yes. If handled properly, the battery sleeve is reusable. Please don't intentionally bend or warp the sleeve.
Wait a second…how does it work? Good question! Batteriser is designed to boost the remaining voltage of a battery to an optimal level, therefore allowing the device to extract the remaining energy out of the battery.
Does the battery need to be "dead" before you use theBatteriser? No, you can start using the Batteriser at any time, even a brand new battery, and you will get the benefits of extended battery life.
Is the Batteriser available for different types of batteries? Yes,Batteriser will be available for AA, AAA, C, and D batteries. The 9VBatteriser will be available next year.
Will the Batteriser fit in my device? Batterisers are designed to be as compatible as possible across multiple devices. We did everything possible to account for design variations of battery compartments and inconsistencies in the batteries themselves. One especially difficult device to account for was the Apple Keyboard, which the Batteriser successfully fits. Take a look here and see for yourself!
Though we have tried our very best, there may be instances where the battery compartment is just too tight to accommodate the Batteriser.
You have mentioned the sleeve is made of stainless steel...is there a possibility of the Batteriser shorting? No, the sleeve is covered with a non-conductive coating, which prevents shorting.
Is there any concern if a person incorrectly places the battery upside down in the Batteriser sleeve? No, Batteriser has a reverse polarity protection mechanism to prevent any issues. If the Batteriser is placed incorrectly over the battery, neither the Batteriser nor the device will operate. Simply re-insert Batteriser in the correct position, and watch it start working again.
Are there limitations on devices that can use the Batteriserbased on the current consumptions? No, the Batteriser sleeve is designed to deliver as much current as a battery is able to supply to the device.


How much longer will my batteries last with Batteriser? This will vary depending on the device. Batteriser will generally give you the best performance gains with devices that drain your battery life quickly.

What do you mean that we tap into 80% of a battery's unused energy? Where is the up to 8x coming from?
With millions of different devices designed by different companies with different specifications for different applications, one number does not fit all. Mileage will vary, and some devices will get more battery life extension from Batteriser than others.Instead of arguing the best design cases vs. the worst, it would make sense to look at ACTUAL data from the field.
Although there have not been a lot of studies on the amount of energy left in batteries as they are thrown away, a very well done study was presented in the International Conference for Battery Recycling by Dr. Rolf Zinniker. He collected "dead" batteries from 19 different recycling locations/centers and the resulting experiments and measurements showed the following results:


| | | |
| --- | --- | --- |
| % of "Dead" Batteries | Left Over Capacity (mAh) | Left Over Capacity % |
| 10% | 2165 | 103% * |
| 20% | 1962 | 93% |
| 30% | 1783 | 84% |
| 40% | 1559 | 74% |
| 50% | 1358 | 64% |
| 60% | 1165 | 55% |
| 70% | 998 | 47% |
*Percentage relative to average charge in multiple types of batteries


This study shows that 10% of the batteries thrown away have roughly enough energy left in them to be considered Unused. 20% of the perceived "dead" batteries have, on average, 93% of their energy still left in them. This study further shows that if you take an average of 30% of the "least Dead" batteries, 84% of energy is still left inside. . If the device could have continued to operate at the same rate of power consumption until all the energy was drawn from the battery, the devices could have lasted roughly from 2 times to 14 times longer, based on this study. As can be seen from the actual real life data on batteries that are thrown away, Batteriser could significantly increase the battery's operating life by tapping into the energy that is thrown away. The full text of the study can be found at:
http://www2.ife.ee.ethz.ch/~rolfz/batak/ICBR2003_Zinniker.pdf
OfficialDuracellUK uploaded a video on youtube that shows how they were able to light up a Duracell Bunny LED light Sculpture using 192 perceived dead batteries. The video states that based on a sample from a UK recycling center, one third of batteries thrown away have up to 67% of usable power left inside. Below is the link to the video uploaded by OfficialDuracellUK.
Can a bench power supply be used to show the voltage at which a battery stops working on a device?

Using a power supply to determine the operating voltage of a battery operated device, and then using that voltage to determine the range of voltage for battery is completely wrong. It ignores the internal resistance of the battery. A video as well as a discussion on Batteroo's website addresses the fallacy of this approach. The link is found at:
---
Admin & Shipping Info
This is a group pre-order for a crowdfunding project. By joining, you agree that GroupHunt is a pure logistics facilitator and does not guarantee the final product as advertised by the creator.
This group order is only available for those residing in Singapore. For orders outside of SG, additional shipping may apply. Please drop us a note at hello@grouphunt.sg before ordering.
As this is a crowdfunding project, no returns are available.
After the hunt ends, we'll update everyone via email. According to the project creator, the order is estimated to ship in Nov 2015. GroupHunt will not be responsible for any delays caused by the project creator.
Once the orders have been received in our warehouse, we will redistribute locally or inform you for collection.