TIME FOR EVERYONE. Eco-friendly
,

Solar-powered watches by Citizen Japan.
We're excited to launch the new mini-series at a special group price of 20% off! Order now and select courier shipping to get your pair before Valentine's Day!
This promotional offer is exclusive to GroupHunt. The original watches are also available for this hunt. Select your watch and extra strap combination at checkout.
Made by Citizen Japan, Q&Q SmileSolar watches are expertly crafted from both virgin and recycled materials featuring waterproof casing and a solar-powered system that keeps them operational up to 3.5 months after a single charge. Citizen Japan has successfully integrated their Solar technology & fashion into a joyful timepiece - watches with a wide universal reach and are super efficient, cost-effective and low maintenance:

It is solar-powered, and does not require batteries. A 10 minute charge under fluorescent light provides a power reserve of 3.5 months, and 30 minutes is enough to last for 11 months.
Expertly crafted from both virgin and recycled materials
Featuring a waterproof casing for 5m
When you purchase a Q&Q SmileSolar watch, a portion of the proceeds is donated to TABLE FOR TWO, to deliver school meals to children in Africa and Asia.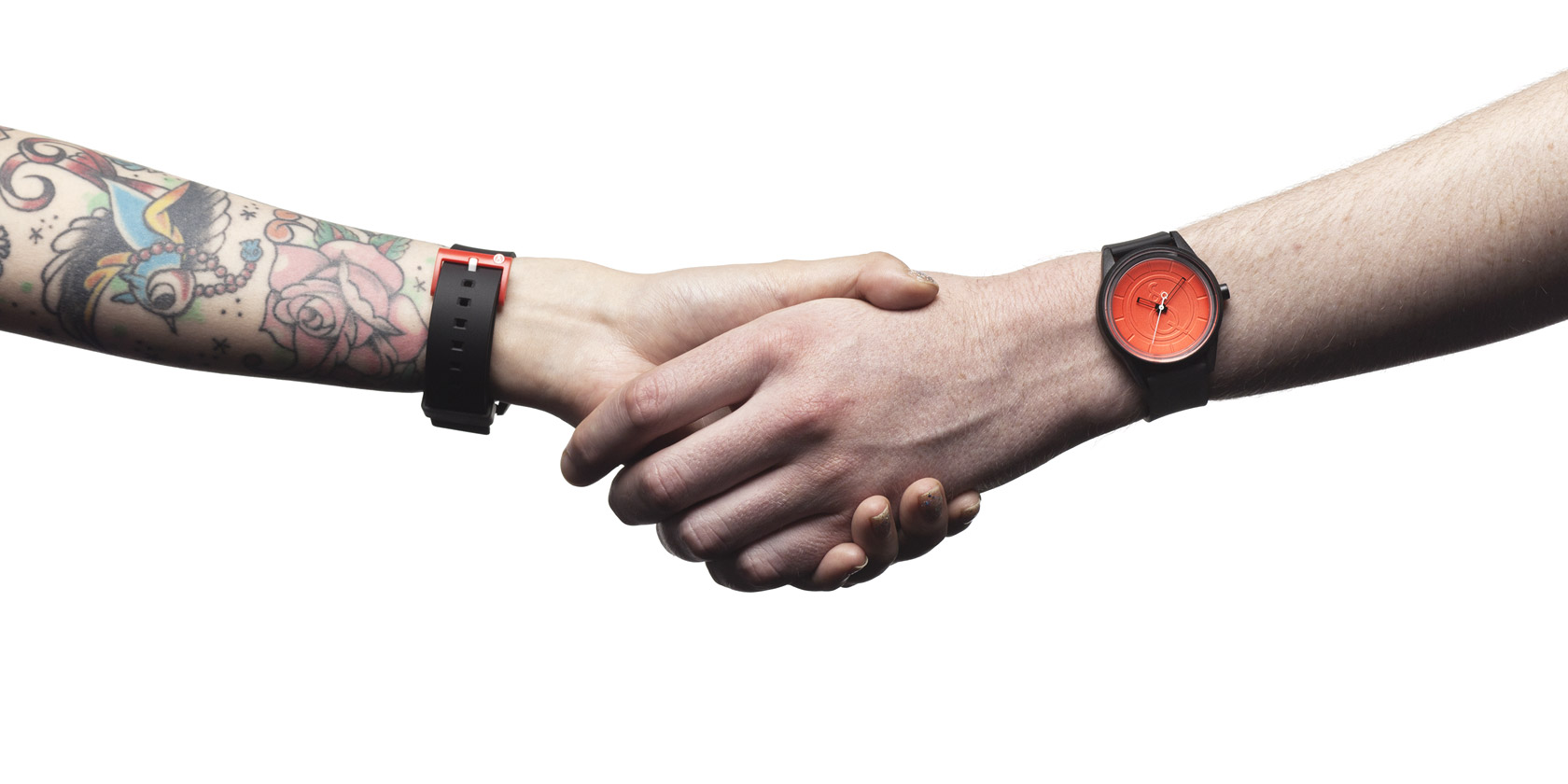 ---
The Product Range - Pick your style with 15 designs to choose from plus the new mini editions!
IMPORTANT: Please note that limited quantities of each colorway are available. Once the option is sold out, we will remove it so act fast!
J018Y- Cool Hunting Limited Edition! Black Dial with Black Strap
Launch and media coverage
Q&Q SmileSolar watches first debuted in Katy Perry's latest music video "Birthday," the fourth single release from her critically-acclaimed album, "Prism."
With a wide array of joyful colors and combinations, each watch carries personality and style that's sharp, and a case that incorporates recycled materials. Not only does Q&Q stand for a new style of watches, they bring awareness and necessity to an environmental cause.
- Case Size 40.00mm - Case thickness 12.50mm - Case Material ABS Resin (contains Recycled ABS Resin) - Strap Material Polyurethane Resin (contains Recycled Polyurethane Resin) / Recycled PET fabric (some models) - Glass Acrylic Resin - Movement Type MIYOTA Cal.2085 (Smile Solar Series/Operates 3.5months after fully charged) - Water Resist 5 BAR
- Limited quantities per colourway available for this hunt, so act quick! Orders will be confirmed on a first come first serve basis. - This group order is only available for those residing in Singapore. For orders outside of SG, additional shipping may apply. Please drop us a note at hello@grouphunt.sg before ordering. - After each hunt ends, we'll update everyone via email. No returns are available. - Product ships in 1 week after the campaign ends from the official local distributor of the Q&Q SmileSolar Watch, and domestic redistribution will be handled by GroupHunt. - Expected ship date: Mid Feb 2016