A Hug For Your Bike
Firstly, A Huge Thank You To Our Community For Making This Happen. If we could, we would give each and everyone of you a hug. But for now, what we can do first is to help you get your CLUG. CLUG is the world's smallest bike rack. It's the tiniest, minimal way to hold your bike!
You won't believe something so small will work so well, but it does! No winches, hooks or balancing acts, just a satisfying "clug" and you're all set!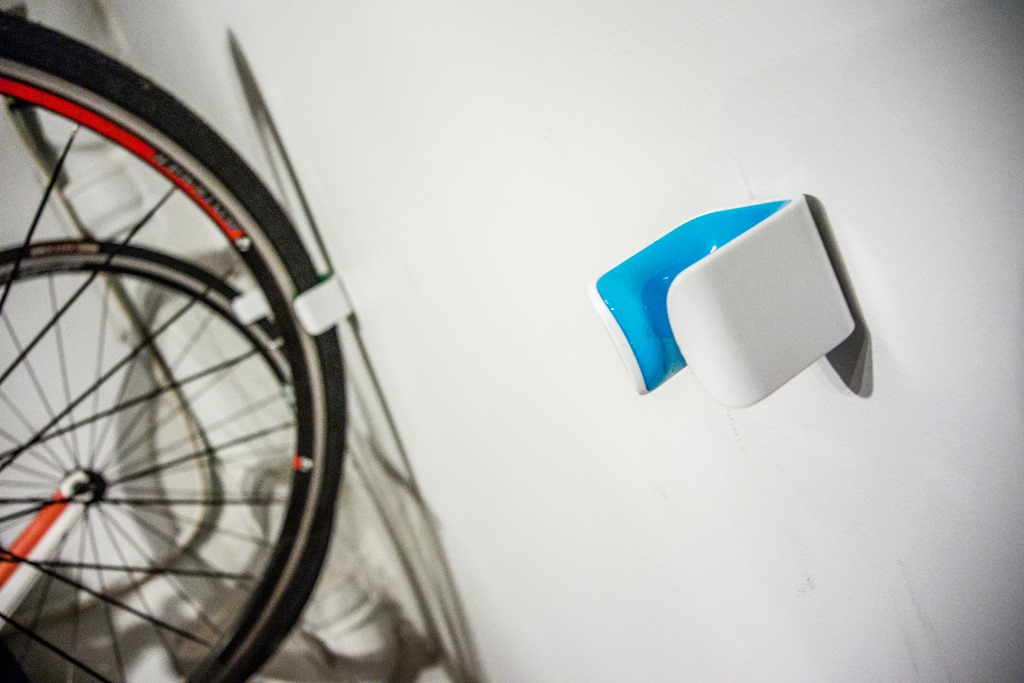 Nothing's as simple (or as sturdy) as the CLUG...So easy, it almost offsets living in a fourth-floor walk up - GQ
Why is it so great
Why? Well because it helps you save space, keep your place tidy and display your ride proudly without damaging it or your walls.
CLUG works with your floor to turn almost anywhere you can think of into somewhere your bike can live.>
Seriously, anywhere - like...
"...it seems we have found the answer to our bicycle storage conundrum" - Cool Hunting
How to choose your Clug
We designed CLUG to be a great fit with just about every bike tire out there. We sell three versions of the Clug - one to fit standard road bike tires between 23 and 32mm (1 - 1.25"), one to fit hybrid tires between 33 and 42mm (1.3 - 1.75") and one to fit big fat mountain bike tires 1.8 - 2.5" (43 - 62mm).
"By far the cheapest and easiest way to mount your bike on a wall, Clug is tiny, understated and as functional as they come" - Gear Hungry
How to Install
It couldn't be easier! Just follow the steps included in your package with your clug or check out the link below to view them online. You'll be done and clugging in no time flat and we think you'll agree that it's easier to install than Windows 95
Choose your colours
Customise your own Clug by being able to choose both the outer and inner colours
Outer and Inner Colour Options
Choose between black or white for the outer layer.
And between orange, green, blue and black for the inner layer
Note: Due to the community's varied demand, we've worked hard to negotiate to guarantee availability of all sizes but may be limited on color - if your color is out of stock we will contact you for a color change =)
Please note the following colour combinations for the specific sizes are hot and thus low on stock. Availability will be on a first come first served basis.
Size: MTB | Colour Combinations (Outer/Inner Colour): White/Black & White/Orange
Size: Hybrid | Colour Combinations (Outer/Inner Colour): White/Black
Join the hunt!
A beautiful bicycle storage solution for almost literally anywhere and everywhere
Easy, peasy installation
Save up to 21% when you buy with Grouphunt
- This group order is for those residing in Singapore only. - For orders outside of SG, additional shipping may apply. Please drop us a note at hello@grouphunt.sg - After the hunt ends, we will update everyone via email with details on shipping - Product ships in about 3 weeks after campaign ends. Estimate ship date to SG is Mid October 2016