Check out what the maker has to say about the difference between the GEn 1 and Gen 2 Bubi Bottles!
MEET BÜBI GEN 2. BIGGER & BETTER THINGS. 35OZ (1L) BÜBI. NEW GRIP DESIGN. MORE HYDRATION.
Are you ready for an even BIGGER, SAFE and REUSABLE water bottle that rolls up when you're done? Well, meet the 35 oz (1000mL) bübi bottle! Made from silicone, bübi is both BPA-free and microbial free making it safe for
babies
and children to use. Place the bottle over a fire to boil water or stick it in the freezer to use as a cold compress. This bottle is also microwave and dishwasher safe, flip the bottle inside out for a more hygienic clean. Say goodbye to cracks and dents because bübi is puncture resistant unlike steel bottles
(alligator approved)
! Stay hydrated with bübi, this bottle is essential for the rugged outdoorsy type, the gym workout fanatic, or the superhero mom! Happy sipping!
Carabiner included for portability
Easy sipping built-in retainer
Punture resistant unlike steel bottles
Rolls up for easy storage
BPA & Microbial free
Silicone & reusable material
Microwave & dishwasher safe
Insulted for hot/cold temperatures

Flips inside out for hygienic clean
Use as hot or cold compress
Freezer safe
Heat resistant to boil water
Keep valuables safe and dry
Feed babies and toddlers
Tested to meet EU, Asia, and FDA standards
35oz (1000mL):

Meet your daily drinking goal with bubi's new bottle size!

Grip Design:

Created with a custom finger-grip design for tight handling & slip-free sipping.

BPA Free:

No harmful chemicals here

Light Weight and Rolls Up:

This bottle weighs 4.5 ounces and rolls up for easy storage
COLORS FOR BÜBI GEN 2: 14oz (415ml), 22oz (650ml), 35OZ (1L)
Pacific Blue // Gunmetal // Sunset Orange
Seaweed Green // Olive Green (available in 35oz only) // Amethyst Purple (available in 14oz and 22oz only)
(Available in 14oz and 22oz only) : Crimson Red // Seafoam Teal // Rose Pink
Are you ready to enjoy the freedom and convenience of a truly SAFE water bottle that simply rolls up for easy storage? Well, meet the
bübi Bottle - BPA Free Reusable Collapsible Silicone Water Bottles

!

Made from silicone, bubi is both BPA and Microbial-free; can be frozen as well as placed over a fire to boil water or soup. Designed to be fashionable, with a huge array of colors to choose from (or mix-and-match); it is a survival essential for the rugged outdoorsy types.
The bubi bottle is the only bottle that can be used as a medical aide (hot or cold compress). It stores bandages to stay dry and can be used as a pillow when traveling or sleeping on the ground. Place it over a fire (yes, fire!), heat up some water and place it in your sleeping bag to stay warm. The bubi bottle also works great during cold winters. Just place it under your coat and stay warm for the day!
BÜBI GEN 1
COLORS FOR BÜBI GEN 1, 14oz (415ML), 22oz(650ML)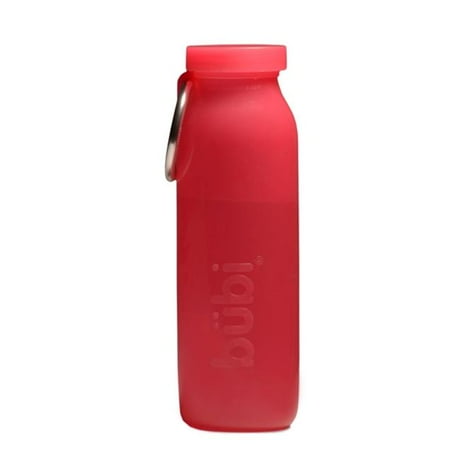 Citrus (available in 22oz only) // Smoke (available in 14oz only) // Cardinal Red
Grape // Lemon // Green